Tabbouleh has distinct Mediterranean roots and variations of this dish can be found in all south-east basin of the Mediterranean Sea. Taking into consideration that Mediterranean basin incorporates 23 countries & territories, it makes absolute sense that recipes of tabbouleh can be found in Greek, Arab & Middle East, Turkish & North African cuisines.
However, the reason I am adding this recipe in my FoodBlog is because tabbouleh is a MUST-COOK food for those who love outdoors & camping. It is an extremely easy, quick, simple & healthy dish to cook with ingredients that can be sourced almost everywhere.
The only cooking needed is boiling the water and chop your veggies. Even the quantities & measuring is not that critical. Tabbouleh was made for the camping, so go ahead and improvise according to your taste & availability at your local farmers' market.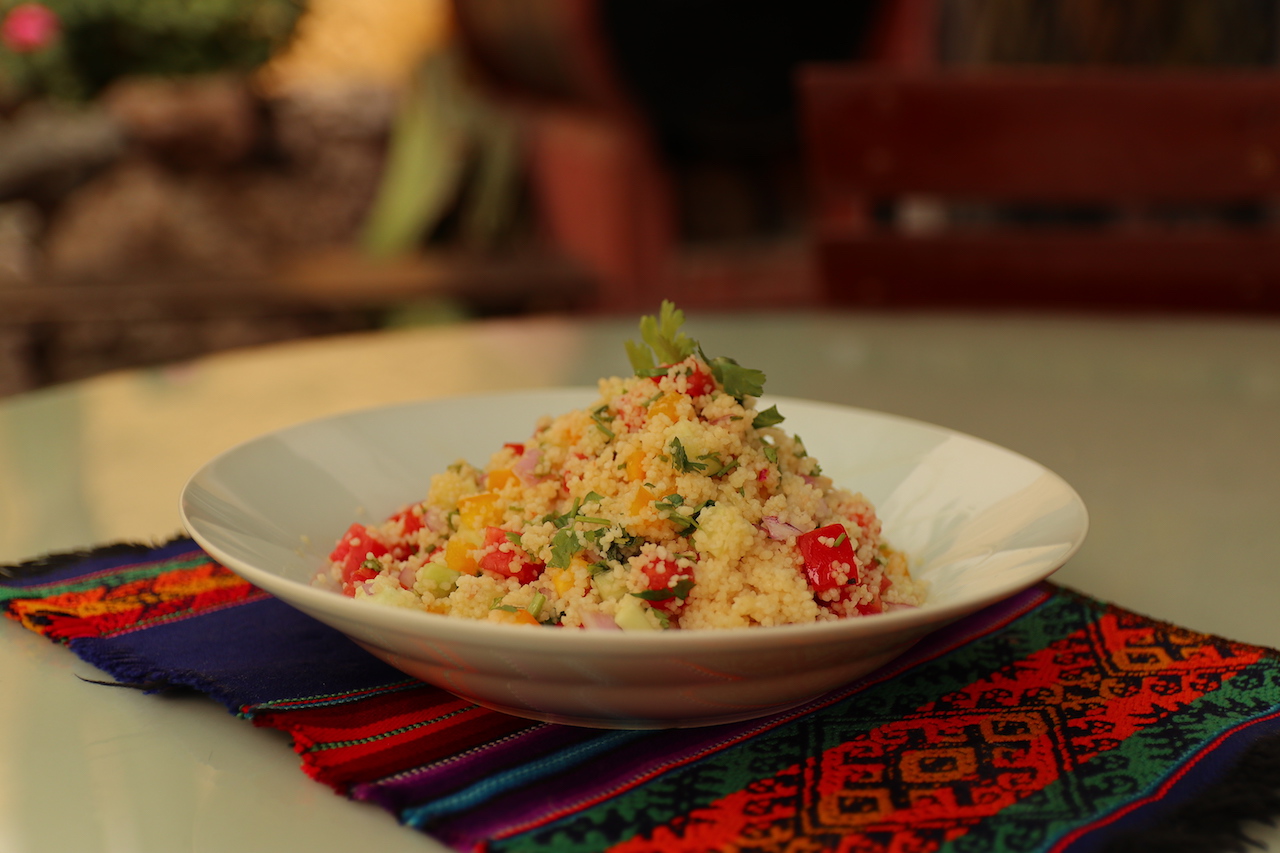 Tabbouleh – A Camping Essential
Serves: 2
Preparation & Cooking time: 20-30 min

Ingredients
200gr cous cous (a pinch of salt & 1 tbsp olive oil for cooking)
2 medium tomatoes (deseeded & diced)
1 small cucumber (peeled, deseeded & diced )
1 small onion finely chopped
1 yellow pepper (halved, deseeded & diced)
1/4 cup parsley leaves (finely chopped)
1/2 tsp salt
1/2 tsp cumin
2 tbsp extra virgin olive oil
Freshly ground black pepper
2-3 limes juice & the zest of half one
In a saucepan, add 250ml water, a pinch of salt and 1 tbsp olive oil. Bring to a boil and then add cous cous. Stir well and remove from heat. Put the lid on and set aside.
Chop and dice your veggies. In a large salad bowl, add the cous cous, the veggies and the rest of your ingredients. Mix well.
Taste and season with more salt & lime if needed. Drizzle with fresh extra virgin olive oil.
Pro tip: You can replace the parsley with cilantro or basil. You will get the same fresh taste but a different tone. These herbs are quite distinct and tent to affect the final result.
You can also add red & green bell peppers (don't forget to halve, deseed & dice).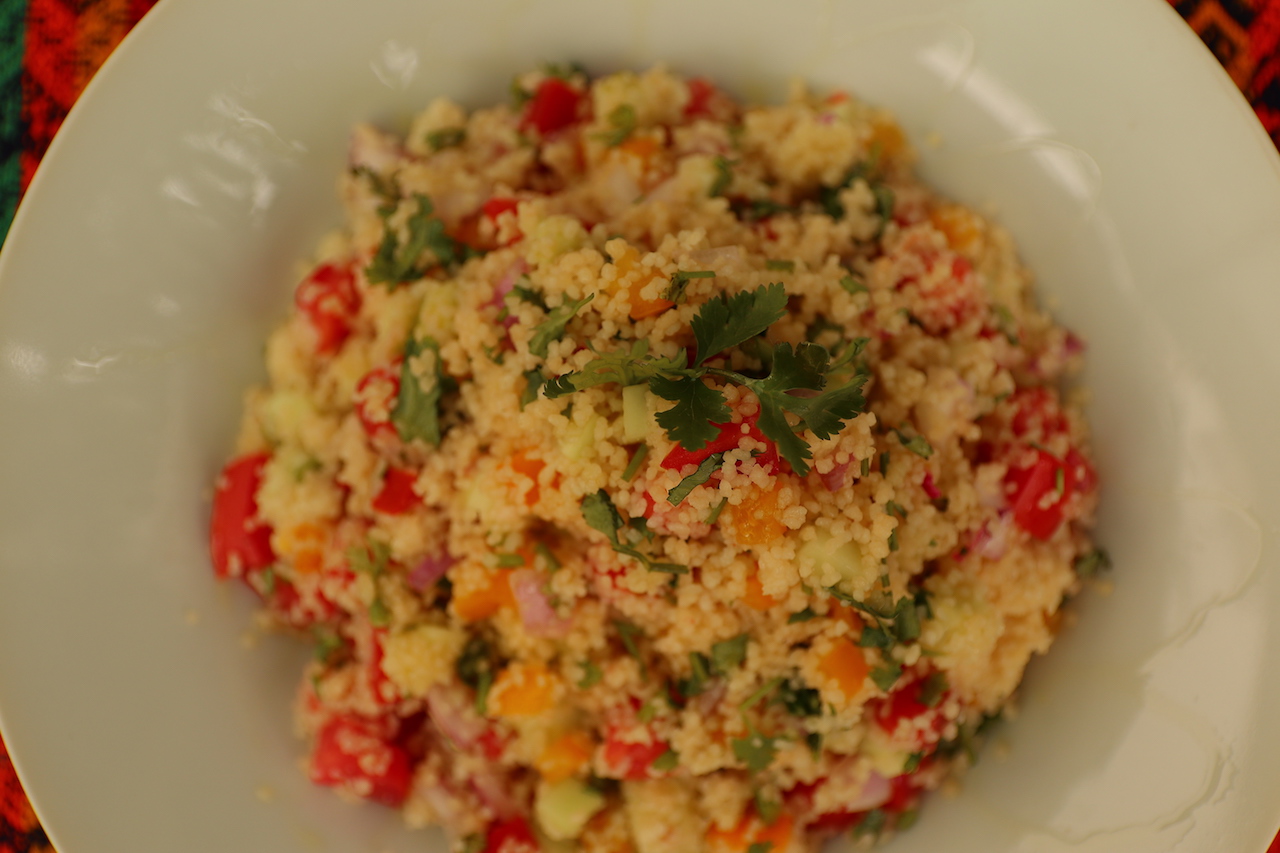 To tabbouleh έχει ξεκάθαρες Μεσογειακές ρίζες και παραλλαγές του απαντώνται σε όλη τη νοτιοανατολική λεκάνη της Μεσογείου. Αν σκεφτεί κανείς ότι η Μεσόγειος Θάλασσα περιλαμβάνει 23 χώρες & εδάφη, δε θα πρέπει να μας κάνει εντύπωση γιατί μπορούμε να βρούμε άπειρες συνταγές για το tabbouleh στην Ελληνική, Αραβική, Τούρκικη & Βόρεια Αφρικάνικη κουζίνα.
Ο κυριότερος λόγος που προσθέτω αυτή τη συνταγή στο FoogBlog είναι γιατί το tabbouleh είναι ένα MUST πιάτο για όλους αυτούς που λατρεύουν την εξοχή και το κάμπινγκ. Είναι ένα απίστευτα εύκολο, γρήγορο, απλό & υγιεινό πιάτο ενώ τα υλικά μπορούν να βρεθούν σχεδόν παντού.

Το μοναδικό "μαγείρεμα" που χρειάζεται είναι να βράσουμε το νερό και να ψιλοκόψουμε τα λαχανικά μας. Ακόμα και οι ποσότητες & οι αναλογίες δεν παίζουν τόσο σημαντικό ρόλο. Το tabbouleh είναι ένα φαγητό που "δημιουργήθηκε" για το κάμπινγκ οπότε μη χάνετε χρόνο και απλά αυτοσχεδιάστε ανάλογα με τα γούστα σας και με το τι μπορείτε να βρείτε διαθέσιμο στον μανάβη (ανάλογα και με την εποχή).
Μερίδες: 2
Χρόνος προετοιμασίας & μαγειρέματος: 20-30 λεπτά

Υλικά
200 γρ κους κους (Μία πρέζα αλάτι & 2 κσ ελαιόλαδο για το μαγείρεμα)
2 μεσαίες ντομάτες χωρίς σπόρια κομμένες σε κυβάκια
1 μικρό αγγούρι ξεφλουδισμένο, χωρίς σπόρια κομμένες σε κυβάκια
1 μικρό κρεμμύδι πολύ ψιλοκομμένο
1 κίτρινη πιπεριά χωρίς σπόρια κομμένη σε κυβάκια
1 φλιτζάνι του καφέ μαϊντανός πολύ ψιλοκομμένο
1/2 κγ αλάτι
1/2 κγ κύμινο
4 κσ έξτρα παρθένο ελαιόλαδο
Φρεσκοτριμμένο μαύρο πιπέρι
Χυμό από 2-3 λάιμ και το ξύσμα από μισό λάιμ
Σε μία κατσαρόλα, βάζουμε 250 ml νερό, μία πρέζα αλάτι και 2 κσ ελαιόλαδο. Αφού το νερό βράσει, προσθέτουμε το κους κους, ανακατεύουμε καλά και το βγάζουμε από τη φωτιά. Σκεπάζουμε την κατσαρόλα με το καπάκι και το αφήνουμε στην άκρη να γίνει.
Πλένουμε καλά & ψιλοκόβουμε όλα τα λαχανικά μας.
Σε ένα μεγάλο μπολ, ρίχνουμε το κους κους, τα λαχανικά μας και όλα τα υπόλοιπα υλικά και ανακατεύουμε καλά.
Δοκιμάζουμε στο αλάτι & το λεμόνι και προσθέτουμε αν χρειάζεται. Ραντίζουμε με φρέσκο έξτρα παρθένο ελαιόλαδο.
Η τσαχπινιά: Μπορείτε να αντικαταστήσετε τον μαϊντανό με φρέσκο κόλιανδρο ή βασιλικό. Θα έχετε παρόμοιο γευστικό αποτέλεσμα με έναν διαφορετικό τόνο. Αυτού του είδους τα φρέσκα μυρωδικά έχουν πολύ ιδιαίτερη & έντονη γεύση και επηρεάζουν αρκετά το τελικό αποτέλεσμα.
Επίσης, μπορείτε να προσθέσετε κόκκινες & πράσινες πιπεριές (χωρίς σπόρια κομμένες σε κυβάκια).